THE LOVERS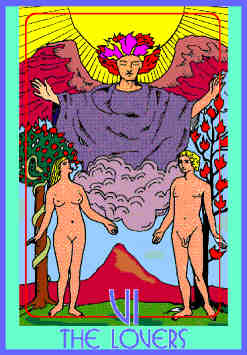 The Lovers represent harmony, love, trust and beauty. The Lovers signify the beginning of a romance or meaningful affair, as well as a happy relationship in business or pleasure. This card also indicates a point in life has been reached where a change of attitude will lead to happier times. Careful thought towards true desires rather than duty must be applied to any big decisions, such as marriage or moving house. Any problems will be overcome and a negative situation will become positive.
Reverse meaning. Untrustworthy, fickleness, separation and unreliability. Frustration with love or marriage, maybe a failure to meet the test. There could be an unwelcome separation or loss, perhaps its time to make an important decision, but this card warns do not be hasty. Gemini rules the Lovers.
Keywords
Upright: Commitment, decision, choice.
Reversed: Fickleness, Bad disicion.